Park Rangers Brutally Arrest Iraq War Vet at Anti-Syria Bombing Demo
Busted for Playing Banjo on Independence Mall
Yates' attorney, Larry Krassner, offered TCBH! a statement on the case saying: "Emily is a six-year military veteran who served honorably for two tours in Iraq. She has PTSD. She was arrested and injured by federal officers for no good reason. The US government owes its veterans better treatment than this, even when they happen to be opposed to further war in Syria."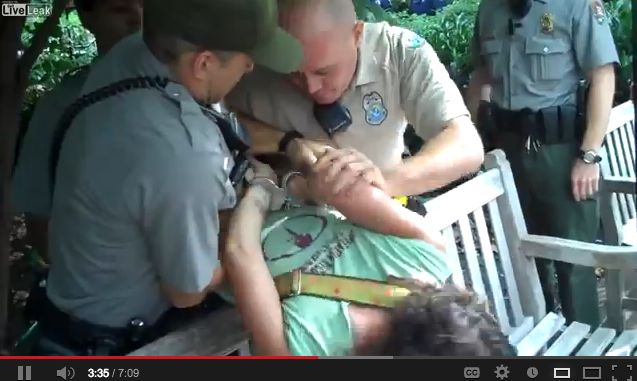 This is "resisting arrest" and "assaulting an officer"? So claim Independence Mall Park Ranger thugs in Philadelphia, who arrested banjo-playing Iraq War Vet and Syria Bombing protester Emily Yates and leveled those charges against her in federal court (click on image to see video)
I would add it owes its citizens, veterans or not, better treatment than this too, especially in this particular location, of all places.
Independence Mall is a three-block piece of property run by the National Park Service in Philadelphia. A favored spot for tourists from all over the nation and the world, with the restored Independence Hall at one end, where the Declaration of Independence and Constitution were written and where the Bill of Rights was passed into law, protecting freedom of speech and assembly, and the Constitution Center at the other end, where the US Constitution and its guarantees of freedom are celebrated, it is also a favored locale for protest actions, such as the protest and march against a US attack on Syria, which took place just before Yates' arrest.
The brutal assault on this peaceful folksinger offers a stark view of the reality of America's burgeoning police state, set as it was against the image of the building where America's founding documents offered the hope for such a different kind of state. The park's rangers Saturday certainly sent many foreign tourists home with a whole different view of the "Land of the Free" not to mention the "Home of the Brave."
I'm reminded of my own arrest by a park ranger some 45 years ago, which went down quite differently.
It was the summer of 1968, and I was driving across the country from California to Connecticut in a 1946 Dodge pickup truck with a friend. We were earning our gas money along the way with my 12-string Guild guitar, which I would take out at opportune moments, setting the case open beside me and plucking my tunes. We were passing through beautiful Yosemite Park, and had figured it would be a good place to pick up some extra gas money before going through what we expected to be some rough territory for busking in Nevada, Utah, Wyoming and Nebraska, and so I sat down on the running board of the truck and began to play in the middle of the main parking lot.